Decks & Patios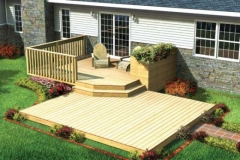 Decks and patios provide a fantastic center to branch your landscaping ideas out from. Typically serving as the gathering area for your friends and family, a well-designed patio or deck can feel as warm and welcoming as your living room.
Shapes and Sizes
We find that many potential clients only visualize a deck or patio as a square or rectangle filling the entire area in which they want to provide seating. With modern decking materials that can be shaped easily, we can design and build flowing, rounded decks that integrate more fluidly into the surrounding landscaping.
Elevated Decks & Balconies
A few raised areas of a deck or patio can provide smaller, more intimate places to share time with friends and family. A small kids play area or lounge chairs under a simple veranda can provide visual interest and privacy.
We also design and build balconies and staircases to create wonderful outdoor square footage for second story or split levels. Create an outdoor living space where none existed previously- its a wonderful way to add useale square footage to your yard.