Drainage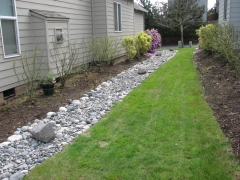 Here in the San Francisco Bay Area, almost all of our clients have some amount of grade in their yard. If the home builder did their job, your house sits on compacted soil with a slight grade to allow water to easily drain to sewage systems. This is not always the case, but there is always a way to design an effective drainage system if you have water issues.
More Than White Pipes
Many people picture french drains when we discuss drainage, but the most effective solutions may also include retaining walls, ground excavation, planting, and other techniques. Its no secret that water is one of the most damaging forces on Earth, and controlling it in your yard can protect your home and solve other problems like mold and termites.
Sampson's Landscaping has designed and installed hundreds of drainage systems, both as discreet projects and parts of larger landscaping efforts. We can help you reclaim your yard too!