Lawns & Planting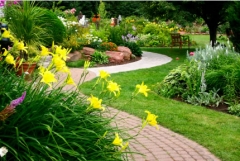 With so many microclimates in the San Francisco Bay Area, there is a lot of value in choosing a landscaping contractor that knows the intricacies of the area in which you reside. We have over 15 years of experience in the area and that translates into a vast amount of knowledge about which vegetation will thrive in your particular climate.
We're sensitive to the rainfall situation in Northern California, and also the growing number of clients who are interested in conserving water. With that in mind, we create lawn and vegetation plans that help conserve water while providing the play area, color and personality you want in your yard.
Choosing flowers and plants is not something to be taken lightly. We have the know how to help you make the right selections based on soil type, sunlight and climate conditions.