Lighting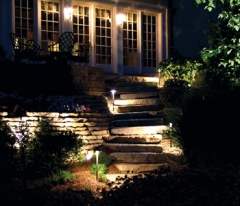 People often overlook the power of a well-designed lighting scheme in their new outdoor living areas or gardens. Outdoors or in, nothing can establish a mood like appropriate lighting.
Water features and unique plant life can become dramatic centerpieces of a yard or entertaining space with well-chosen spotlights, and pathways can be dimly lit to create an aura of intrigue or intimacy. Common patios and decks become perfect late night gathering places with just the right amount of light around the surrounding yard to provide a feeling of serenity.
Sampson's Landscaping can also suggest various types of lighting to increase the safety of your yard. Steps, walls and paths can be gently lit to suggest elevation changes and the way back home.
We offer a variety of solutions for earth-friendly lighting as well, from low-power consumption lights to LED lighting.