Outdoor Living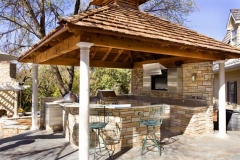 One of the most popular trends in the last decade has been to extend the living area into the yard. More than just a table and chair set, outdoor living spaces can now be as comfortable and inviting as the most luxurious living room.
Outdoor living rooms typically begin with a hardscape floor of flagstone, pavers, or concrete and many times include an elaborate arbor or covering. Include some mood lighting, a ceiling fan, sound system and even a television, and you'll be spending a lot more time outdoors than in. Sampson's Landscaping can design your outdoor space and we also network with electrical and audio/video contractors, as well as interior designers who can help bring it all together.
Also very popular are outdoor kitchens. We have a few very highly recommended kitchen designers that specialize in outdoor cooking and eating spaces. Picture yourself not only grilling, but preparing your entire meal outdoors while entertaining along with your guests, instead of slaving over a hot stove inside. We're excited to help your vision turn into a useful, enjoyable outdoor kitchen!