Retaining Walls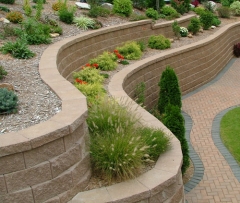 Clients call us to build retaining walls for one of two reasons: they have a problem to fix, or they want to add depth and levels to their landscape. In both cases, functional and decorative, Sampson's Landscaping can design and build a retaining wall that is well incorporated into your yard. Sometimes that means it blends in and is barely noticeable, and other times it becomes a centerpiece from which we can work outward with the rest of the landscape design.
With the hilly landscape of the bay area, we're called in regularly to excavate and flatten hills to create more usable space in a yard, or to use a wall to divert runoff into a drainage system. Even in these more functional installations, we can create a beautiful retaining wall that compliments your landscape.
We have extensive experience with both wooden and stone walls, as well as brick, cement and other common materials. Call Sampson's Landscaping or request a quote online for your next retaining wall project.