Yard Maintenance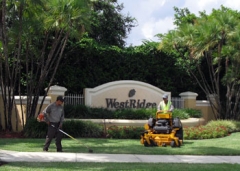 Proper maintenance is a must for today's elaborate landscaping installations. Sure, you can hire the kid next door or the cheapest company around, but they are typically more concerned with getting in and out and on to the next thing. Sampson's Landscaping takes pride in our maintenance contracts, and we ensure that each visit is thorough and complete.
We'll not only manicure your lawns and beautify your gardens, we'll check every irrigation line for proper operation and fix any leaks. We'll ensure your drainage system is clear and fully operational, and we'll check your lighting to make sure bulbs are in working order and electrical is sound. Other services include weed spraying, pest spraying, quarterly fertilizing and plant and flower rotation.
Sampson's Landscaping is happy to handle both family and corporate maintenance contracts, and we offer a free property inspection and quote if you are interested in having our professionals care for your property. We can work with your budget and schedule and can adapt our services to your changing needs as they occur.